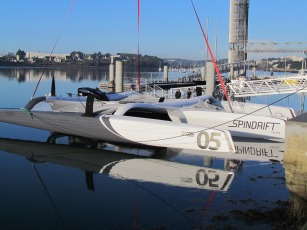 27.01.12
After an eight-month build the MOD70 No.05, Spindrift racing, made it into the liquid element this Friday 27 January, under the watchful eye of her entire racing stable, led by skipper and multihull specialist, Yann Guichard. In addition to the launch of his new one-design trimaran, the Breton sailor made the most of the occasion to introduce part of his sailing team.
Successful launch for MOD70 No.05 Spindrift racing:

It was in the early hours of this morning that the doors to the Océan Développement shed were slid back to reveal the MOD70, Spindrift racing, to the passing walkers. The operation to get a boat out of the yard is always an impressive one and getting her onto the crane is a tricky moment. Sporting some strongly contrasting colours, it was 1000 hours local time when the trimaran finally hit the water in the port of Kéroman, Lorient.

"I can't disguise the fact that the launch of the MOD70, Spindrift racing, is an emotional moment for me, especially as it's a decent project, which I'm managing with the support of my entire team. Beyond the emotion, this launch is an important moment because it heralds our appropriation of Spindrift racing. For the past eight months, we've been spectators to the construction of our one-design. From today onwards, we're going to be able to get our teeth into this circuit!" explains Yann Guichard.

A grouping together of skills aboard Spindrift racing:

Mirroring the very concept that defines Spindrift racing, Yann Guichard, President of this new ocean racing stable, was keen to group together the different skills required of multihull specialists, both in the choice of shore crew and the choice of sailing team. In this way, the crew aboard the MOD70 No.05 comprises Pascal Bidégorry, Billy Besson, as well as Jacques Guichard. "I'm proud to be able to have around me a shore crew with vast experience and some exceptional sailors, all of whom are multihull specialists. We're all itching to put in our first tacks on Spindrift racing" says Yann Guichard.

Initially the MOD70 Spindrift racing will remain dockside in Lorient until the middle of next week, but the programme for the coming weeks promises to be intense! Indeed, once the load tests have been completed, the trimaran will head for her port of registry in nearby La Trinité-sur-Mer, before beginning some training sessions, which will see her sailing side by side with the MOD70 Foncia, helmed by Michel Desjoyeaux.