SAISON 2012
KRYS OCEAN RACE 2012 : NEW YORK TO BREST IN UNDER 5 DAYS !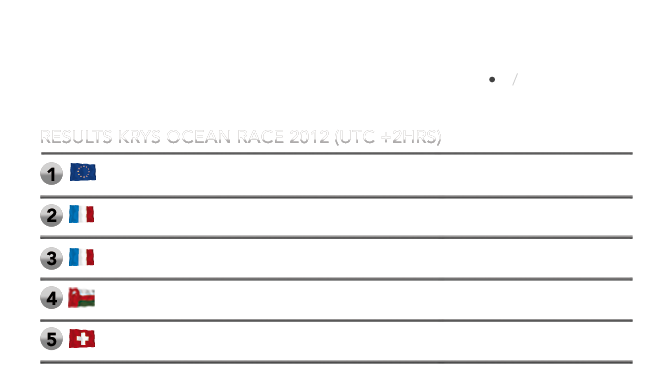 After over three years of planning, development and a significant financial investment, the five-strong fleet of MOD70 one-design trimarans were rewarded with exceptional weather to deliver a stunning inaugural KRYS OCEAN RACE over the 2,950 miles from New York to Brest.
Starting in light winds off Manhattan on July 7, while New Yorkers sweated through their hottest day of the year, the MOD70s were very quick to point their bows and catch the low-pressure system which was to slingshot them all the way across the Atlantic.
It was Yann Guichard and his five crew on Spindrift racing, MOD70 N°5, only launched in January 2012, who set the bar at a very high level in the first KRYS OCEAN RACE.
With his hard-driving team, big on multihull experience – (especially at the helm and trimming) Guichard crossed the finish line in Breton rain off Brest's Petit Minou lighthouse just 4 days 21 hours 08 minutes and 37 seconds after leaving New York.
Spindrift racing sailed an actual 3,284 miles on the water at an average of 28.04 knots.
Incredibly, it was only around the isle of Ushant, in the very final approach to Brest, that the victors made their first gybe since leaving US waters.
Atlantic records – for comparative purposes,
The WSSR course from Ambrose Light, New York to Lizard Point, Cornwall, UK, is 2910 miles
KRYS OCEAN RACE course, New York to Brest, is 2950 miles
2001 Steve Fossett, PlayStation, 125ft catamaran, crew of 11, 4 days 17hours 28mins 6secs
2006 Bruno Peyron, Orange II, 120ft catamaran, crew of 12, 4 days 8 hours 23 mins 54 secs
2007 Franck Cammas, Groupama 3, 103ft Trimaran crew of 12, 4 days 3 hours 57mins 52 secs
2009 Pascal Bidégorry, Banque Populaire V, 103 ft trimaran, crew of 14, 3 days 15 hours 25 mins 48 secs
EUROPEAN TOUR 2012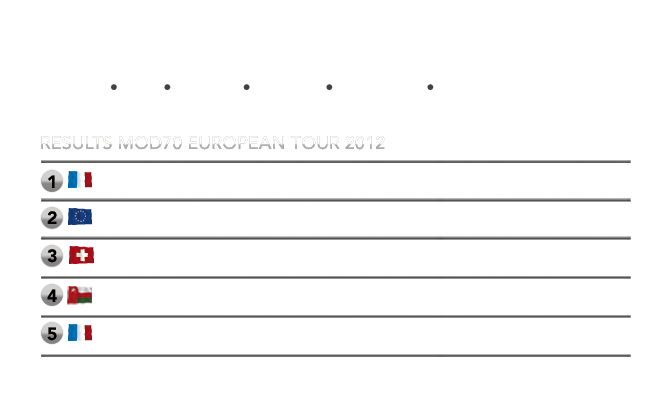 At the end of five weeks racing, from Kiel to Genoa, from the Baltic to the Mediterranean it was easy to forget that this was the first MOD70 European Tour.
For the most part the race was sailed in light to moderate conditions, interspersed with some exciting periods of 30-35 knots, and the majority of the course was reaching or downwind. Four of the five finishes were played out in calm conditions and the differences were always extremely tight between the one-design trimarans. With the exception of finish leg of leg four, the crews were always in sight of each other.
Of the five MOD70 crews which competed, the main honours were shared between three: FONCIA, the overall winners, won two offshore stages and a City Race series, Spindrift racing won two offshore stages and two City Race series and Musandam-Oman Sail won one offshore stage and a City Race series.
And for all of the 4,700 miles of offshore racing in five stages, and four City Race series it took until the final minutes of the final leg, in the Gulf of Genoa, for the overall winner to be decided. The duel which had gone on for the whole month was only finally settled just a couple of miles from the finish line in very light winds. FONCIA did what they had to do, finishing second behind Spindrift racing on that final leg, to clinch the inaugural MOD70 European Tour title.
All five MOD70's finished the race entirely intact with no significant damage or technical problems.
ROUND THE ISLE OF WIGHT (ARTEMIS CHALLENGE): NEW RECORD TIME
MOD70 skipper Michel Desjoyeaux and his crew raced on FONCIA round the Isle of Wight during Cowes Week on the Artemis Challenge, in an astounding new record time of 2 hours, 21 minutes and 25 seconds.
Sidney Gavignet on board Musandam-Oman Sail crossed just 1 minute and 28 seconds later to also beat the record which was set back in 2001 by the maxi cat PlayStation*.
Michel Desjoyeaux enjoyed the win on his first sail around the Isle Wight: "That was good, the weather was sunny and we had nice conditions with lots of wind all the way along. We had a few tacks to get to the Needles, which slowed us up, and Musandam-Oman Sail were faster upwind, they tacked in front of us, but they missed their last tack so we were able to overtake, pick up speed and finish first."
Finishing Times
Foncia – 12:21:25 BST
Musandam-Oman Sail – 12:22:53 BST
Gamesa – 14:46:56 BST
Artemis Ocean Racing II – 14:48:07 BST
*The previous multihull record was held by maxi catamaran Playstation, set in November 2001 (2hours, 33 minutes and 55 seconds).