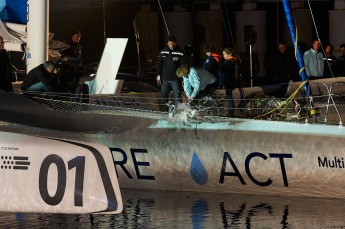 25.03.11
The MOD70 Race for Water, the first of the new series of oceanic one-design multihulls, will be christened tonight as of 9 pm, by French actress Anne Richard in Lorient. A week full of great events has gone by: the launch of the boat, an educational day with the children of Lorient schools, the organization of a Forum «Ocean racing, a platform for sustainability?» attended by several specialists, Catherine Chabaud, Roland Jourdain and Vincent Lauriot-Prevost. Multi One Attitude Foundation's ambassador boat, the MOD70 nr. 1, skipped by Stève Ravussin, will participate this year in two races and in a fleet test match.

"I am committed to fight hard with my new boat, the MOD70 Race for Water, to obtain the best results; I will do my best to promote our message: the preservation of water!" says Stève Ravussin, just a few hours before the christening of his new racing machine. "We have already a good racing program this year, with two mythical races, the Stockholm Round Gotland Race in Sweden in July and the Fastnet Race in Great Britain in August, followed by the test match this autumn, where all the teams participating in the circuit will try to win on an equal footing!
And tonight, the skippers, namely Michel Desjoyeaux (Foncia), Roland Jourdain (Veolia Environnement) and Sébastien Josse (Gitana Team), will stand by Stève's side for the christening of the first MOD70 Race for Water. Anne Richard, the French actress, a long time friend, has been chosen by Stève to represent the children, the actual godfathers and godmothers of the boat. She will say a few words before the traditional champagne bottle's breaking. The actress writes and tells children's stories, and her CD's are loved by the small ones. She will be assisted by Malo and Ambre, both 10 years old, who will also take part in the ceremony, just after the giant technology 4D show, projected on the Cité de la Voile Eric Tabarly for the public.

Anne-Cecile Turner, Multi One Attitude Foundation Director, says: "It is magic to see the "Race for Water" in the sea. It is the result of a hard work. She is now ready to carry our message around Europe and around the world."

Marco Simeoni, Multi One Design and Multi One Attitude Foundation President: "This has been a fantastic week. The Foundation has launched the first actions aiming to increase public awareness about water preservation, both with the children and with the nautical industry community. " He continues: "The MOD70 Race for Water is not only the ambassador of the Foundation, but also the ambassador of the entire MOD70 series. Already 4 teams are registered and we will announce the 5th team in April. We are confident that 12 boats will be on the start of the first Ocean World Tour».