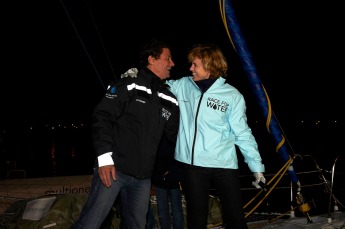 26.03.11
Steve Ravussin's MOD70 trimaran Race for Water was christened yesterday by French actress Anne Richard. More than a thousand spectators attended the great sound and light show and a spectacular 4D projection has transformed the façade of the Cité de la Voile Eric Tabarly.
The first MOD70 is also the ambassador of the Multi One Attitude Foundation, whose mission is the preservation of Water. One of the cornerstones of the Foundation is based on a strong educational program, including Titeuf, the famous cartoon character drawn by Zep.
"What the MOD70 series and the Foundation have in common is important.", says Steve Ravussin. «Both have a strong relationship with future generations. Indeed, the Foundation's mission is to educate people about water conservation, probably one of the greatest challenges for our future. The MOD70 series, through one-design and crew racing, is able to offer younger and less experienced sailors a real chance to discover multihull ocean racing! The transmission to young people of values and skills is something that I feel really at heart. That is why I am doubly proud to enter the competition at the helm of the Race for Water! "