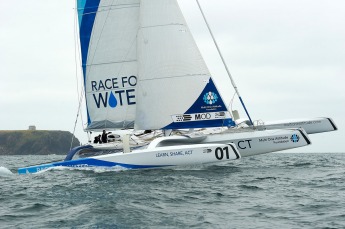 04.07.11
After a short stop at the Kieler Woche in Germany last week, the first MOD70 is continuing his summer programme, the Race for Water Tour, with a first offshore race in Sweden: the AF Offshore Race, formerly the Round Gotland Race. The Race will start on July 6 for the first time from the center of Stockholm.
Stève Ravussin and his crew are impatient to test the boat in real racing conditions for the first time. "We have been invited to come and race in Sweden and we are really thrilled to start soon. I always love to come here in this wonderful archipelago. I have great memories since I raced and won the Nokia Oops Cup in 2005 ! I am sure that the racing will be fantastic!"

"Stockholm is a magic place that is combining great sceneries and love for sailing. This could be a wonderful stopover city for the MOD70 European Tour that is starting in 2012. We will have 6 spectacular one-design trimarans competing next year. We are starting with the Krys Ocean Race, a transatlantic race going from New York to Brest in exactly one year, and we will continue with the European Tour that will take place in September 2012. Being here this week, together with Klabbe Nylof's Samsung Challenge, right in the center of the city, is showing the potential of an event of that kind!" explains Stève Ravussin, skipper of the MOD70 nr 1 and founder of the MOD70 class.

The Race for Water Tour will continue this summer with a second race in August, the legendary Fastnet Race, starting on August 14. Veolia Environnement, Roland Jourdain's MOD70 nr.2, will participate in the race too. A thrilling first competition between the first two MOD70 of the series: what a duel in the offing!

The first official gathering of the MOD70 fleet, the KRYS MATCH, scheduled for October 6, 7 and 8, 2011, will be taking place in La Trinité sur Mer, South-West Brittany (France). The first three MOD70s, Race for Water, Veolia Environnement and Foncia, will put on a show, together with the Gitana 11 – a 77 foot prototype trimaran, equipped by Baron Benjamin de Rothschild, in hold of the launch of his own MOD70 nr.4.

The MOD70 Race for Water is the ambassador boat of the Multi One Attitude Foundation. Its mission is to raise awareness on water preservation, focusing on two main issues: ocean preservation and reduction of water footprint. The programme of the Foundation will be closely linked to the MOD70 circuit and a Water Pavilion will be at the heart of the Race villages in order to educate people on the greatest challenge of the 21st century: WATER.
---------------------------
RACE FOR WATER TOUR

June 2011: KIELER WOCHE (Germany)
July 2011: STOCKHOLM GOTLAND RACE (Sweden)
August 2011: FASTNET RACE (UK)