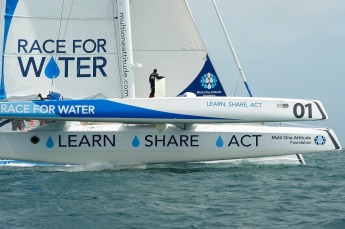 08.07.11
The MOD70 Race for Water has won the AF Stockholm Round Gotland Race and has gone through the finish line just a few hours ago. The trimaran was one of the favorites with Klabbe Nylof's ORMA 60 Samsung Challenge that finishes just a couple of hours after the MOD70. A great racing start for the first of the MOD70 series winning over the ORMA 60, even in very light winds!
"A fantastic race!" says Swiss skipper Stève Ravussin at the arrival of the first official regatta of the MOD70. "It is magic to sail in this fabulous region. The nights are so short. Just a couple of hours of darkness and the sun is out again. This is really amazing!"

"The spirit has been great on board and the team has made an excellent job. Since the start we have been confronted to very light winds, which was not so reassuring, knowing that our main competitor Samsung Challenge, stirred by Klabbe Nylof, has less weight and more sails surface." The skipper adds: "We have been sailing upwind in a maximum of 15 knots the first evening, and we have been relieved when we noticed that we had a better speed. Then, we sailed downwind most of the race."

The boats have chosen different options after, so they were out of sight for the rest of the race.

Stève Ravussin's crew is composed of Nico Pichelin (Project Manager) and Jacques Guichard (in charge of the sails), both helmsmen and trimmers, of Benoît Lequin (Technical Manager) and LoÏc Forestier (rigging), both foredeck crew, while Stève has been responsible for the navigation and helm. The crew has been helped by two locals, the Swedish Tim Shuwalow and Calle Hennix.

A superb start for the Race for Water Tour ! Save the date for the next race: the Fastnet Race on 14 August in Cowes!