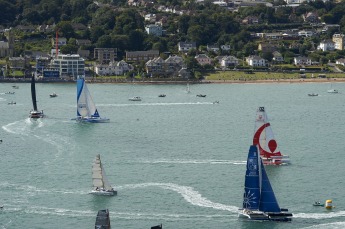 12.08.11
Whilst thousands of racers from all walks of life have been battling it out at Cowes Week, as they have traditionally done for the past 185 years, around 350 competitors, including the MOD70s Race for Water and Veolia Environnement, are limbering up on the Isle of Wight. On the menu for them is what has become a legendary race taking them from Cowes itself to Plymouth, via the Fastnet Rock in the Irish Sea. As such the first two MOD70s will be launching themselves in at the deep end of ocean racing this Sunday 14 August from the very cradle of Yachting; the ultimate symbol!
Hosted every two years by the RORC in association with the Royal Western Yacht Club, Plymouth, and the Royal Yacht Squadron, the prestigious Rolex Fastnet Race first run in 1925, certainly isn't ready to yield. Once again this year, five classes can compete – the IRCs, the double-handed IRCs, the IMOCA 60s, the Class40s and the multihulls – and the limit of 350 competitors was quickly reached.
The crews led by Stève Ravussin and Roland Jourdain will have the time to assess and trial their young steeds in race configuration throughout the 608 mile course between the Isle of Wight and the south-west coast of England. There will be eight other multihulls competing in their class including the maxi-trimaran Banque Populaire V (Loïck Peyron) and Sébastien Josse's Gitana XI… You can wager that these talented sailors will have their sights on the reference average speed which has been held since 1999 by Fujicolor: 15.03 knots…
However, it will be important to be vigilant as there are frequent trains of depressions in this area, which make for a treacherous course in an ocean which can really stamp its authority on its worst day, even in summer…
As they await the kick-off, the two MOD70s are doing a spot of training around the Isle of Wight with a few guests aboard!
Quotes from the boats:
Roland Jourdain, skipper of the MOD70 No.02, Veolia Environnement: "There isn't the pressure of a championship here, but each mile covered in race format is important for familiarising yourself with the boat. It's also important for the team to get into race configuration because that's our job first of all and it gives us a deadline for getting the show on the road. As such it's important we don't miss this meeting as I'm sure it will enable us to draw lots of things from it and learn good lessons for the future of the class."

Stève Ravussin, skipper of the MOD70 No.01, Race for Water: "It's a fantastic race and the competition format appeals to me. It's a kind of fast marathon, an oceanic sprint almost, which requires very good navigation skills as well as intelligent tactics. It also provides us with a good dose of adrenalin! Added to that it will be a great moment for our class, as it will be the first race between two MOD70s. I'm delighted at the prospect of racing against Veolia Environnement!"