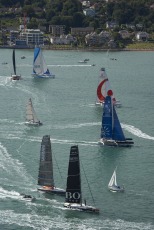 17.08.11
Though there's no doubt that Banque Populaire V was the first multihull to cross the finish line in Plymouth Sound in elapsed time, it's the two MOD70s – Veolia Environnement and Race for Water respectively, who take the top two places on the leaderboard! Indeed, in the Rolex Fastnet Race, the method for working out the standing uses corrected time.*
Franck David, CEO of MOD S.A: "Seeing our first two MOD70s engaged in such a battle on the water throughout the race was very satisfying for our entire team. It validates the work carried out at the different yards and rewards the effort put in by all our technicians who've been working behind the scenes for months!
The crews of Veolia Environnement and Race for Water set a blistering pace and sailed a fine race! Congratulations to everyone!
The icing on the cake is that the MOD70s respectively take first, for Veolia Environnement, and second place for Race for Water, in the final standing in corrected time! This victory augurs well for our young MOD70 class!"
Provisional final ranking after application of the allotted handicap
(official website source http://fastnet.rorc.org/results/2011/ffm02.html):
1 – Veolia Environnement / Roland Jourdain – MOD70
2- Race for Water / Stève Ravussin – MOD70
3- Gitana 11 / Sébastien Josse – 77 foot trimaran
NB: There are 4 multihulls still racing but the established order of the top 3 won't change.

*Standing in corrected time:
- Each boat is allocated a time handicap according to specifications measured in the class measurement.
- From this the time allowance factor itself is calculated.
- The latter figure is multiplied by the elapsed time at the finish.
- The result provides the corrected time, enabling a fair ranking between what are basically different boats.