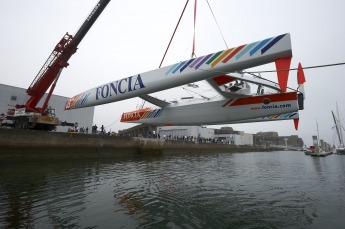 18.08.11
This Wednesday 18 August, the launch of the MOD70 No.03 marks the return of Michel Desjoyeaux, and the loyal owner of his boat Foncia, to the multihull. Today is another step forward in the formation of the MOD70 class which, in the space of just one week, has seen the launch of its 3rd one-design craft and the arrival of Oman Sail on the circuit.
This morning Michel Desjoyeaux's smile betrayed his satisfaction, and his deep green gaze twinkled at the prospect of the future training sessions in the company of Roland Jourdain and Swiss sailor Stève Ravussin: "Between the two bays (Ed's note : Lorient and Concarneau), there is one hour's sailing if you average 25 knots. As such, we're not going deprive ourselves of the opportunity to get together…
I've always said that multihulls are the finest race machines in ocean racing. I focused my attentions on another objective for a while, with the Vendée Globe 2008-2009, but my real passion has always been the multihull… The creation of the MOD70 circuit was an opportunity and a half and Foncia and I were one of the first to announce our intention to take part in it. They are fantastic machines.
Truly battling it out on an equal footing is deeply satisfying on a purely competitive level. It places greater emphasis on the sailors themselves, so man is back at the heart of the action. The difference will be made as regards how the machine is used."
Franck David: "Each of our launches is a special moment, which marks the end of a build and fit-out for our team and the start of the on-the-water adventure for the team who receive their MOD70. Today, it's the turn of Foncia and MOD70 No.03. We wish Michel Desjoyeaux and all his team a smooth handover and a great deal of enjoyment on the water aboard their new trimaran! Indeed this won't be long in coming because in just a month and half, during the Krys Match, we'll have the pleasure of seeing the first three MOD70s sailing together alongside Sébastien Josse and his crew, who will receive their MOD70 No.4, Edmond de Rothschild Group, just a few weeks later."

The MOD70 Foncia will remain alongside for several days in order to carry out various tests, before she heads offshore for some sea trials midway through next week, on her way to her port of registry, Port la Forêt, north-west Brittany.

NEXT
The MOD70 No.04
Edmond de Rothschild Group
Skipper: Sébastien Josse
25 October 2011