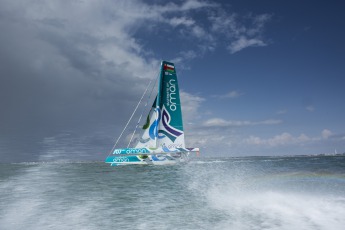 01.06.16
The RORC Myth of Malham Race is a 250-mile race round the Eddystone Lighthouse. The start was given from the Royal Yacht Squadron Line at 1200 BST (GMT+1) on Saturday 28th May.
Following a close fought contest, Musandam-Oman Sail's ambitious summer season got off to an encouraging start with a victory over MOD70 rival Team Concise.
At the finish line in Cowes, just 12 minutes separated the two high speed trimarans despite some testing light airs that ruled out any sustained pace, with Sidney Gavignet's highly-rated crew of Damian Foxall and navigator Jean Luc Nelias, Fahad Al Hasni, Sami Al Shukaili and Yassir Al Rahbi posting a time of 20 hours and 53 minutes.
For more info : http://news.omansail.com/media/mailing/?id=2116
Source : Oman Sail