SAISON 2013
ROUTE DES PRINCES 2013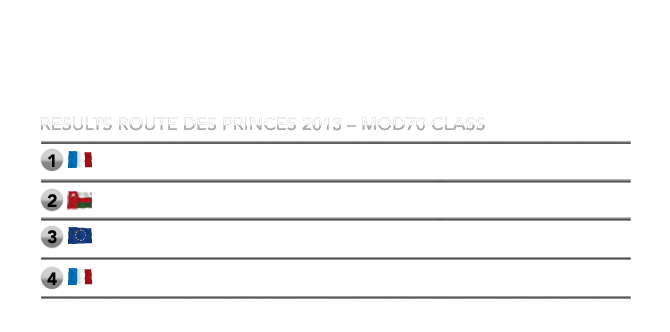 The Route des Princes took place from 9 – 30 June 2013. Only open to 50ft multihulls and above, and with nine teams racing (including four MOD70 teams) this European tour went from Valencia (Spain) to the Bay of Morlaix (Brittany, France) via Lisbon (Portugal), Dublin-Dún Laoghaire (Ireland) and Plymouth (United Kingdom). A total of 3,045 miles of offshore racing in three weeks.
FASTNET RACE 2013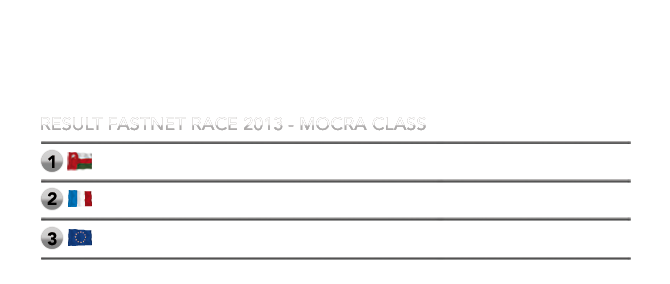 The MOD70 Oman Air-Musandam crossed the finish line of the 2013 Rolex Fasnet Race at 04:16:12 BST in Plymouth to win the MOCRA multihull class on corrected time. The MOD70 Edmond de Rothschild also took part and finished in 4th position.
TRANSAT JACQUES VABRE 2013

After a start postponed by several days due to the strong weather conditions, the starting gun eventually sounded on Thursday November 7 at 1300hrs. A little over a week later the two competing MOD70s crossed the equator in the same time as in the Jules Verne Trophy records at the beginning of this century. The duos of Josse-Caudrelier and Gavignet-Foxall, produced a close and engaging high-speed race all the way from the startline off Le Havre to the finish line in Itajaí, Brazil. But as they negotiated a stormy frontal system off Cabo Frio, the MOD70 Oman-Air-Musandam dropped off the back of the front and the MOD70 Edmond de Rothschild was able to sail away and wrap up the race in 11 days and 5 hours at an average speed of 22 knots. They were only five hours ahead of the MOD70 Oman Sail Musandam who were never more than 100 miles behind the leader.